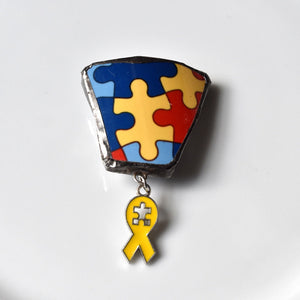 Broken China Jewelry Brooch - Puzzle Necklace - Autism - For Charity
This beautiful broken china brooch is a one-of-a-kind conversation piece for sure to be a great piece for someone with unique style. Handcrafted and upcycled from reclaimed china found in thrift stores and flea markets, each shard is wrapped in solder and secured on a pin back.
As each piece is recycled, there may be slight scratches and marks on the surface from regular plate use, but that just adds to its charm.
Size varies, but is about 2" x1.5" Handmade in Baltimore, MD USA.
Custom Jewelry and Custom Wedding Jewelry Set: I love doing custom work, so if you have a sentimental plate or piece of china or glass that you would like to see made into jewelry, or would like matching sets for your wedding party, please send me an email juliet@ibreakplates.com! Or visit my website