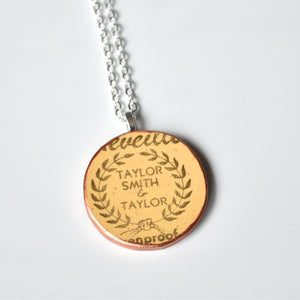 Broken China Jewelry Necklace - Backprint
This collection is made from shards from china found in thrift stores. They are hand painted with gold porcelain paint and topped with a silver color bail.
Size varies, but the pendant about 1.5" x 2" Chain is 18" silver color
Handmade in Baltimore, MD USA.
Custom Jewelry and Custom Wedding Jewelry Sets : I love doing custom work, so if you have a sentimental plate or piece of china or glass that you would like to see made into jewelry, or would like matching sets for your wedding party, please send an email to Juliet@ibreakplates.com!