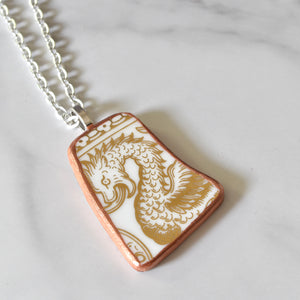 Broken China Jewelry Pendant - Gold Dragon
This beautiful broken plate necklace is a one-of-a-kind conversation piece for sure to be a great piece for someone with unique style. Handcrafted and upcycled from reclaimed china found in thrift stores and flea markets, each shard is handpainted, topped with a silver plated bail and comes with an 18"chain. Other sizes available upon request.
Pendant about 1.5" x1.5"
Handmade in Baltimore, MD USA.